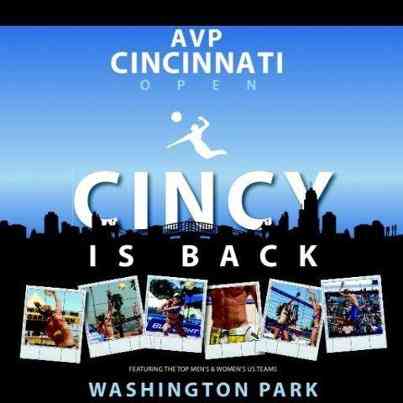 When the AVP announced that there was a new owner, everyone in the Volleyball community was buzzing with excitement. When they announced that they would have 2 events this year, the players were fired up. That meant more prize money and competition, that would hopefully lead to a bigger and better 2013. I for one, was, and still am, very skeptical about how the AVP plans to build a sustainable tour. Is there a unique business model? I sure hope so or I'm afraid we will see history repeat itself.
When they released the dates of the events I was frustrated because Cincinnati was the same weekend as Motherlode. Something that has plagued the tours over the past 2 seasons have been scheduling conflicts and lack of respect for each other. This was red-flag #1. Now I had a decision to make…do I go to Motherlode, in beautiful Aspen or support the new AVP tour? I looked into the details for Cincy and found that it was a qualifier for the Santa Barbara event. Only the top 12 teams qualify for SB, meaning we have to finish 9th or better. I felt like we had a reasonable chance of making that happen, so we signed up for Cincinnati.
Little did I know that they were only using 2010 main draw points and Cuervo points from this year. Unfortunately, my current partner was not allowed to play AVP at that time because she was still waiting for her green-card (which she now has). Needless to say, we find ourselves as the 4 seed in the qualifier for Cincy, even though we we're the 15 seed in Manhattan last weekend. It's disappointing that the AVP feels the need to create more of a disconnect between the tours by using some mutant form of a points system that benefits players who haven't even played in 2 years. Even more so after all these press releases and articles came out saying how Donald Sun wants to help unify the sport…Sounds good in theory, but actions speak louder than words. That was red flag #2.
So, here I am, Tuesday night before I leave, packing my bags, mentally preparing for 2 matches on Thursday to make it into the last 4 spots in the main draw. Since we are the 4 seed, I like my chances. I go to sleep visualizing winning and all the positive things that were ahead of me. This morning I wake up to a "Last Minute Change" email from Hans Stolfus. My stomach clenches and that old feeling of dread creeps over me. There was a change to the women's brackets. I want to say I'm surprised, but I'm really not. I won't mention names, out of respect to fellow players, but a highly recognizable team decided that they wanted to play Cincy instead of the FIVB event. The registration deadline was August 17th, 12 days ago. Barring some act of God, I think they should have known which event they were going to play. But they also knew that they could make a few calls and get into the event.
Now, what happens to the qualifier is this…There are only 3 spots, instead of 4. They left the last seeded team in the main draw and now instead of having to play 1-2 matches, we have to play 3-4 matches. We must play down to the final 2 teams. The two 3rd place teams will have a lucky losers match for the last spot. Basically, we have to play a full mini-tournament to make it to Friday. Then we get to play the 1-3 seed first thing Friday morning. Is it too late to go to Aspen?
I understand the AVP supporting such a decorated team due to brand image. However, it sends a very bad message to teams seeded 21 and below that they will be treated as second class players. We all make sacrifices to play this sport, purely for the fact that we love it. However, the AVP has demonstrated time and time again that only the top players really matter. That is how they get sponsor money and market their events. This whole scenario makes sense on a very selfish level for said team to do this. It's unfortunate that the AVP couldn't come up with a better solution.
Please understand, I don't necessarily have a better solution. Once they agreed to let them in, the damage was done. They don't have enough time or space to make it a 32 team draw. It justs sets the precedent that nothing has changed. They are back to their old ways, which doesn't look good to sponsors, players or fans. If they really wanted to turn over a new leaf, they would have handled this much differently. They said they wanted to make a splash…well, congratulations.
So, as I sit on my plane, I am trying to stay focused on all the right things. I will let my frustrations go as soon as I land. I will just tell people to read my blog if they want to know how I really feel. My job now is to play my best, win the matches I need to win and make the best out of a tough situation. Everything happens for a reason, which I guess is still to be determined…