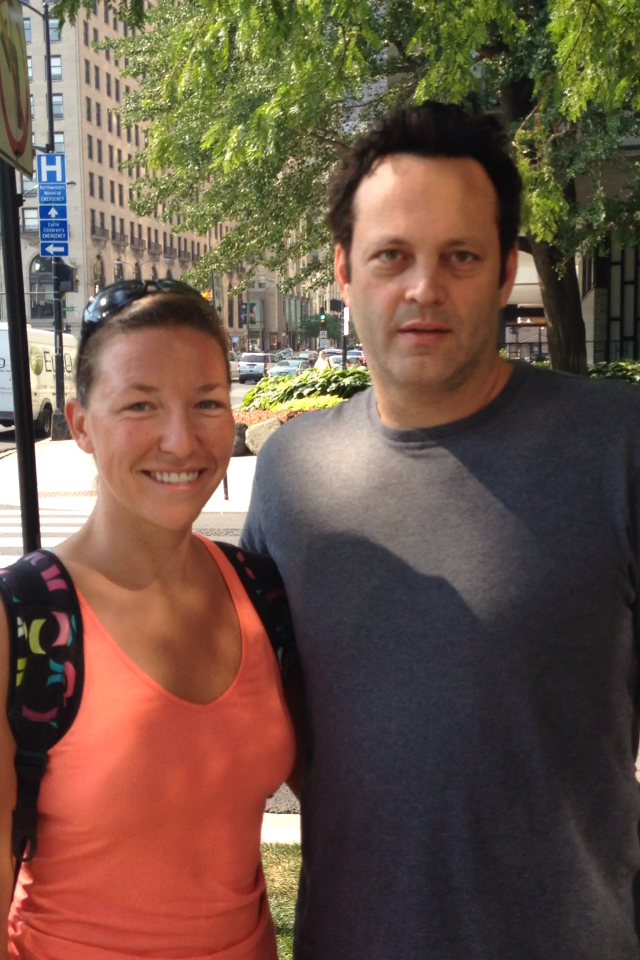 Chicago has always held a special place in my heart, since it was the very 1st place I ever qualified for the main draw. Every time I go back, I think "There's no way it's going to be better than the last time"…and then something amazing happens. This year I was walking down the street and ran into the one and only Vince Vaughn. He ended up having breakfast right next to us, so I mustered up the courage to go introduce myself as they were leaving. I told him that I was playing in the Jose Cuervo Pro beach volleyball event and invited him to come. I told him that I would put his name on the VIP list. He thanked me and said they might come down to watch. I snapped a quick pic and we went our separate ways.
The next day, as it was pouring rain around 2 pm, I had given up hope that he would make it out for the event. Around 4:30, Kiwi and I were called up to play on court #1, the feature court. We quickly moved our stuff and as I walked onto the court, Kiwi ran up to me and said "He's here, Vince Vaughn came!" I glanced over to the VIP tent and saw him walking up. I ran off the court (like my long lost best friend was there) and up the stairs. I walked past the security guard, where Vince was standing. I touched his arm and said "Hey! Thanks for coming!" He gave me a big smile and hug and asked if they had missed me playing. I told him we were up on Court #1 in just a few minutes and that we were very excited that they had made it, now that the weather was better.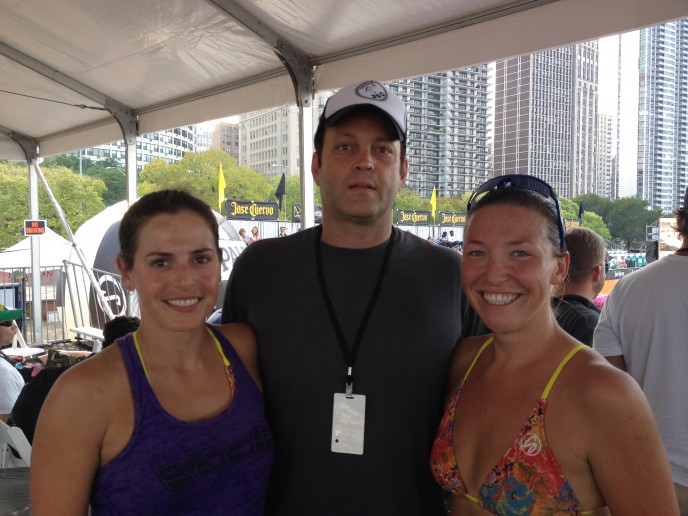 We won the next match in 2 games and played well. They were all cheering for us and started getting into the game. In between matches I took Kiwi up to VIP and we got a picture with him for the scrapbook. We played well in our next match and took the 5 seed to 3 games. Unfortunately, we just couldn't break their rhythm. Vince and his crew came down afterward to congratulate us on a great tournament. We finished 9th overall and are very proud of how well we played.
Now back to…Hermosa
Back to the deep sand and cooler weather in Southern Cali. Where the best of the best come to compete. If you haven't been to a Pro event in Southern California, I would highly recommend you make this one. The qualifier is on Friday and the 32 team Main Draw starts on Saturday. We are the #15 seed, so we are excited to see what the weekend brings!
Giant thank you goes out to all our sponsors… FOKUS Pilates Studio, Smack Sportswear, and Voolii. We wouldn't be this awesome without you!