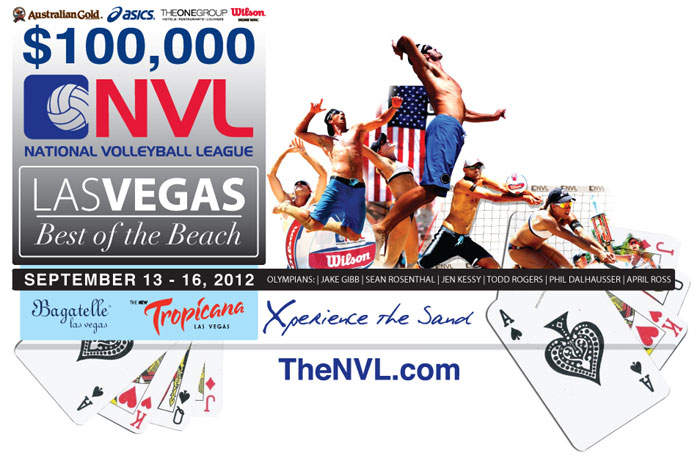 Yes, I am one of the few who was born and raised in Las Vegas. I went to a private Catholic high school, Bishop Gorman, and played volleyball at UNLV. No, we never lived in a hotel and my mom was not a stripper. However, I did get to go to amazing dinners and shows for special occasions. I didn't even know what "last call" was until I moved to California. What do you mean you're closing??? I just got here…
I remember when I was 13, my high school coach took me to watch the King and Queen of the Beach AVP event. I got to meet legends like Mike Whitmarsh, Karch Kiraly, EY, Dain Blanton, Adam Johnson, AL-B Hannemann and many others. At one event at the Hard Rock, I even volunteered to be a Sunkist girl. Let's just say volleyball was my life and I dreamt of being able to compete at home, in front of all my friends and family.
So here I am, 17 years later, returning home to play in the Best of the Beach event. It's such a crazy feeling when things come full circle. We are playing at Sunset Park, which is where I first stepped foot on the sand. I didn't even see the Pacific Ocean until I was 16!
The top 40 men and women are competing for the title of "Best of the Beach". Players will have a different partner for each match. The winner of each pool moves on to Friday, and the winner of those pools moves on to Saturday. There are 6 courts at Sunset and 2 at Bagatelle Beach, adjacent to the New Tropicana. Play starts at 8am on Thursday. You can visit TheNVL.com for a schedule of events.
Tickets are $20 for Bagatelle beach, $10 for locals! So all my friends better be there!!! Plus Sunset Park is free! So, if you're a beach volleyball fan, come watch some amazing play and hang with the pros afterward. Friday and Saturday nights are going to be full of shenanigans, I'm sure. And Sunday is the Pool Party at Bagatelle Beach (maybe you'll get a chance to play with the pros???). I promise you won't want to miss this!