NVL Ohio…It's at a water park?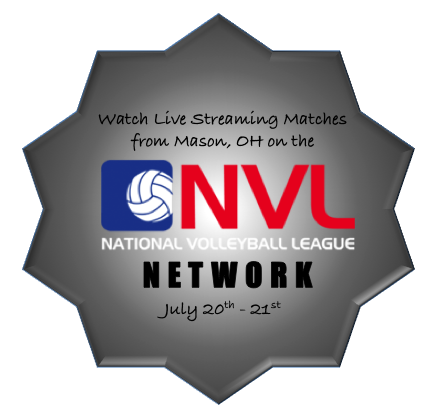 When you first hear about a Pro beach volleyball tournament in Ohio, you may question the location. Upon arrival, I was very impressed with the setup and excited to explore the venue. There are 5 courts at "The Beach" water park surrounded by a myriad of water rides to keep you cool. There is another facility with 10+ courts about a 1/4 mile away, which I found very interesting. Who knew beach volleyball was so popular in Ohio? Come to find out, they have one of the largest junior volleyball programs in the US!
We are the 4 seed this weekend and I am VERY excited to play some great matches. Make sure you tune in to see the action live on the NVL network. Also, if you want to check out the brackets…here they are:
The Junior's Presence
Alongside the Pro event, the NVL is hosting a junior's championship too. There is a 12's, 14's, 16's and 18's division with over 200 teams registered. I would recommend keeping an eye out for NVL CEO, AL-B Hannemann's daughter, who is playing in the 12's division. Maia Hannemann and her partner, Mandalay, are flying high on a 13 tournament win streak and are threatening to break the current record of 13 tournament wins held by beach volleyball legends Sinjin Smith and Randy Stoklos. If these two girls are the future of our sport, I say the future looks bright.
ROX Volleyball
ROX volleyball was founded by volleyball players for volleyball players. They create great apparel for both indoor and beach. You will definitely see me sporting their newest bikinis – they are comfortable, have a variety of cuts and some are even reversible! They truly love our sport and are helping the NVL grow the game. Thanks ROX!
Strategy
The NVL held youth clinics throughout the day on Friday with Olympians like Riley Salmon and Dave McKenzie. These guys ran the clinics, talked with the kids, shared their medals and, I'm sure, inspired everyone they talked to. Something that I really appreciated was seeing the athletes sit down with the kids and talk about the strategy that goes into playing beach doubles. So many clinics only focus on skills, but the beach game is very cerebral.
For me, visualization goes a long way. The night before the tournament I lie in bed, lights off, no distractions and close my eyes. I picture myself going through a variety of situations that I might see the next day until I can see myself being successful in each one. I fall asleep and let my subconscious absorb everything I just visualized.
Another important aspect of our game, that usually comes with experience, is mental toughness. If you play any sport, you will come across obstacles that you have to overcome. You may stumble along the way. How you deal with failure, can define how successful you can be. If you fail, let that drive you. Let it fuel your hunger to get better and find a way to win.
I'm off to prepare for a great tournament tomorrow! Goodnight…