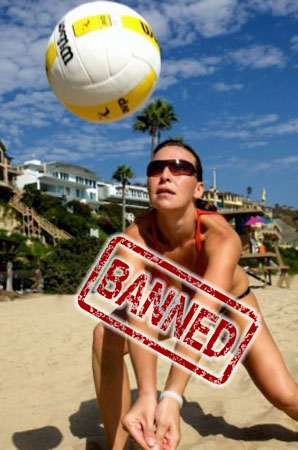 I just found out yesterday, 8/20, that the AVP declined my entry into the Manhattan Beach tournament this coming weekend, even though I had registered on 8/11 and my partner and I were in the Main Draw list as of 8/19. Before I get into the semantics, I would like to give some back story here. I have spent considerable time talking to players and trying to put together professional, respectful communication. You can see my initial email to the AVP here. (I also cc'd 50 other athletes who had agreed to be included on this email because we all had the same questions.)
All I have ever tried to do is share information openly and honestly while being a voice for the players. I have never said anything anti-AVP or unprofessional. I do not feel that I have done anything wrong and that I am being punished for asking questions and being passionate about our sport. I was not raised to sign contracts without asking questions.
What is their reasoning? According to the email from the nameless AVP Players email account "Discussion is not necessary, however, due to previous communications regarding the AVP, we feel it is in the best interest to decline your entry to our Manhattan Beach event. Good luck in your future endeavors."
I followed up with this:
"Dear Donald Sun and AVP staff, 
I have been playing in every AVP event possible since 2007, including Cincinnati last year. None of my communications have been anti-AVP, unprofessional or unreasonable. I was only trying to be a voice for the players (as I had received countless calls and emails asking for information). Not allowing me to play in Manhattan or other events is a personal attack and also punishes my partner.
I just want to play. Nothing special, just play. I will sign the contract and play by the rules, just like everyone else. I do not feel like I am being unreasonable in my request.
I hope you will reconsider your decision to not allow me to play.
Also, I already have a flight to Cincinnati and was going to register this afternoon. Is this a lifetime ban or just for Manhattan Beach? Please call me ASAP so we can straighten this out. 
I am not a bad person, I'm just passionate about this sport that we all love so much."
I feel blind sided and attacked personally. I called the AVP offices multiple times yesterday and was told that Donald Sun would return my call. That never happened. I called Donald Sun and AL Lau's personal cell phones, with no response. I do not know if I am banned from all AVP events, or just Manhattan, so I feel that further discussion is necessary. I have flights booked to Cincinnati, but have already lost my partner as the deadline to register was yesterday. So not only am I out the cost of my flights, but any prize money and points I would have won.
The good news is, that this does not define my life. However, I have dedicated the past 8 years to playing professionally and giving back to the sport. My hope, by sharing this with everyone, is that I can protect injustices like this, from happening to other players. I have given the AVP every chance to communicate with me and not make this worse. Unfortunately, they have ignored me and treated me like I just don't matter…